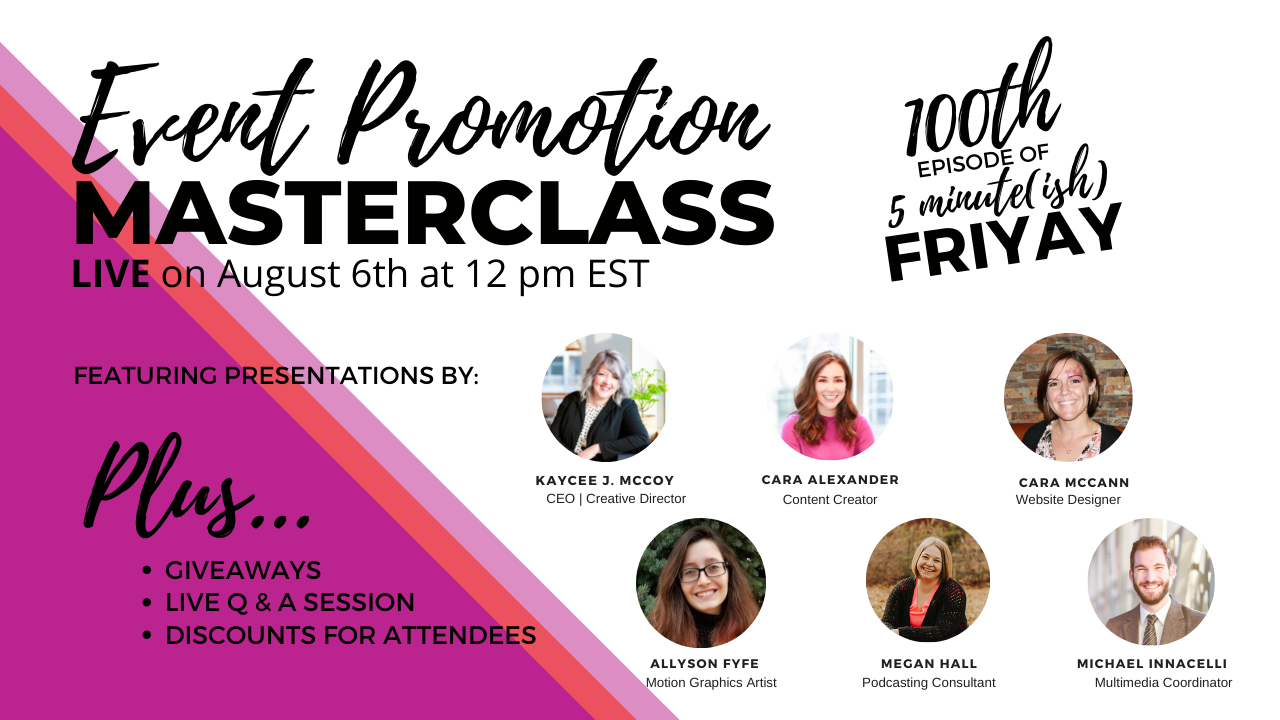 get excited people—it's our 100th episode of friyay!!! To celebrate we're hosting a masterclass on event promotion. you won't want to miss this!
When: Friday, Aug 6th @ 12:00pm EST
Where:
 BizConnect Hampton Roads
318 W 21st St, Norfolk, VA 23517
OR
Join Us Online
Topic: A Masterclass on Event Promotion w/ Live Q&A
Join the entire Create/Captivate team of creatives for our first-ever livestreaming masterclass! Registration is completely FREE, but required in order to be eligible to win one of our three *awesome* prizes (grand prize is valued at $100)! The focus for this class is Event Promotion—all the ins and outs of what comes before, during, and even after your event! Check out what our experts will be teaching:
Kaycee McCoy – ceo + creative director
Overall Event Strategy
Megan Hall – podcasting consultant
Using Your Podcast and Podcast Guesting to Promote Events
Michael Innacelli – multimedia coordinator
Using Video to Promote Your Events Before, During, and After
Allyson Fyfe – motion graphics artist
Evoke Emotion Using Animation and Increase Event Awareness with Giphy
Cara Alexander – content creator
Topic 1: Graphics that Grab Your Attention
Topic 2: Stop the Scroll on Social
Cara McCann – website designer
Topic 1: Event Copy that Captivates
Topic 2: Marketing Your Event with Your Website + Emails
If you are unable to attend live but still have questions you'd like answered,
fill out this form
and we'll get back to you after the event!
FRIYAY #100: A Masterclass on Event Promotion