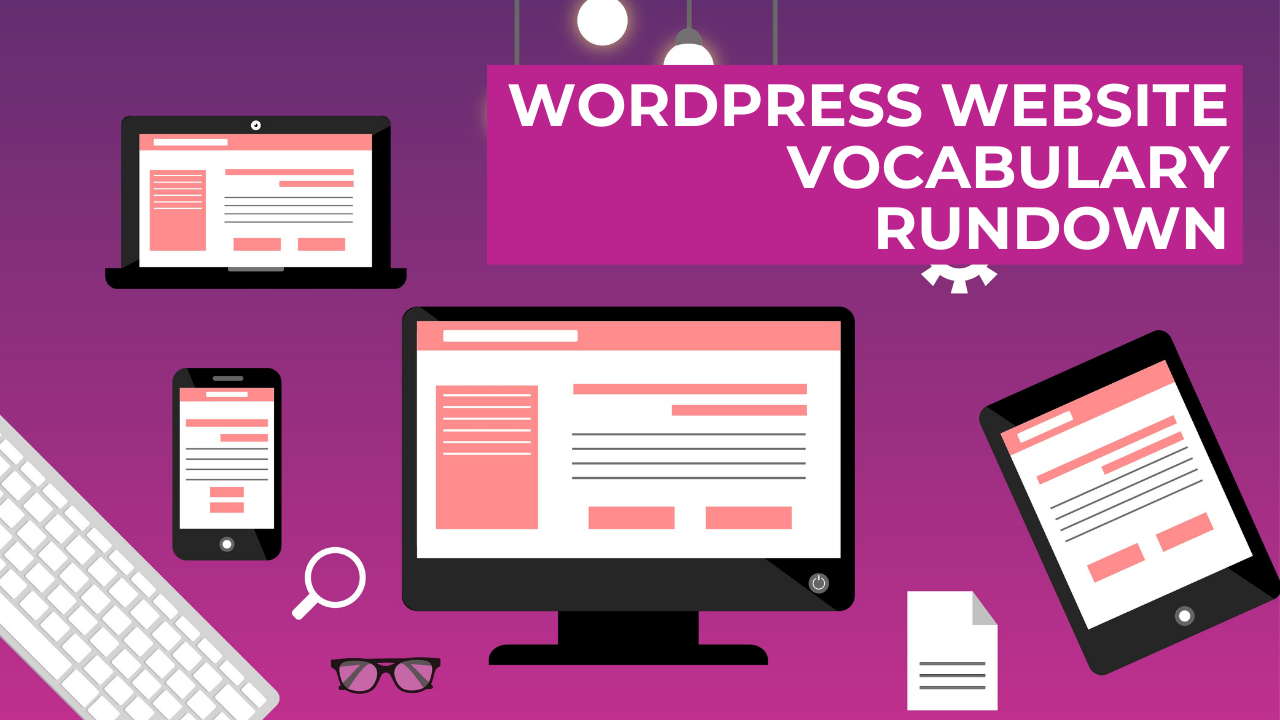 does website vocabulary leave your head spinning?
Have no fear, the vocab rundown is here! We get it—website terminology is A LOT to take on, especially when it's all new and it all sounds like Greek. Even though you can't tell by looking at it, there are several vastly different facets that make up a website, and that frequently comes as a bit of a surprise to clients when it comes time to build their own.
Thankfully we are BIG fans of education around here because we always want you to feel empowered and informed when it comes to your marketing endeavors. So grab a sip of coffee (or wine—no judgement here!) and read on to learn about all the things that bring your WordPress website to life.
Your domain name is an easy to remember address that identifies your website—think of Coca-Cola.com, Target.com, WellsFargo.com, CreateCaptivate.com. They most frequently are the same as your business name with a .com (or .net, .org, etc) on the end, though sometimes there are reasons to use something other than your business name (we can help you figure that part out).
Registering (purchasing) a domain name means that you now own that address outright, and that no one else can have a domain name exactly like yours.
If your domain name is the physical address, then hosting is the house itself, but in this case your house is virtual. You are essentially renting space on the internet so your website can be visited by other people. Without hosting, your domain name is just an address pointing to an empty lot. There are dozens of hosting options available depending on the needs of your website (size, number of visitors, bandwidth, etc) and price point, which is why we maintain a list of recommended providers which we are happy to review with you!
Before you start any website design project, you will need to set up your domain and hosting. Once those steps are complete, we can get to the fun part—design!
Your theme is the first design element of your website. It what provides all of the basic building blocks—layout options, customizability, recommended plug-ins—and much, much more. We will work with you to select a theme and demo that speak to you and will grow with your business for many years to come.
Within most themes are Demos. Demos provide a structural framework so we can build your site out more easily. Think of it as a model home—there's a general layout and appeal, but you still have tons of aspects you can personalize.
Demos are fully customizable so you don't have to love the entire thing to use it, and we don't have to use one at all, but if you like the overall vibe of a demo it can be a very helpful starting point.
Plug-ins are like mini programs for your website. If there's something your theme doesn't inherently do, there's about a 95% chance we can find a plug-in to do it.
Examples:
Event Calendars
E-Commerce
Forms
SEO
Plug-ins integrate with the rest of your website so you typically can't even tell it's a separate feature. Some are free, some are paid, usually depending on how "premium" you want your features to be.
Widgets are a built-in WordPress tool that allow you to edit and rearrange content in specific areas of your website, most commonly the sidebar and footer.
Widgets are commonly used on blog sites to list recent posts, blog categories, recent comments, and more; on many other types of sites they are used to dictate what shows up in the footer. Widgets are customizable but typically have more limitations than other aspects of your website.
Search engine optimization (SEO) is the process of implementing specific practices to give your website the best chance of showing up in search engine results. Search engines like very specific things, like keywords, image attributes, heading types, and page titles, that we have full control over and can use to our advantage.